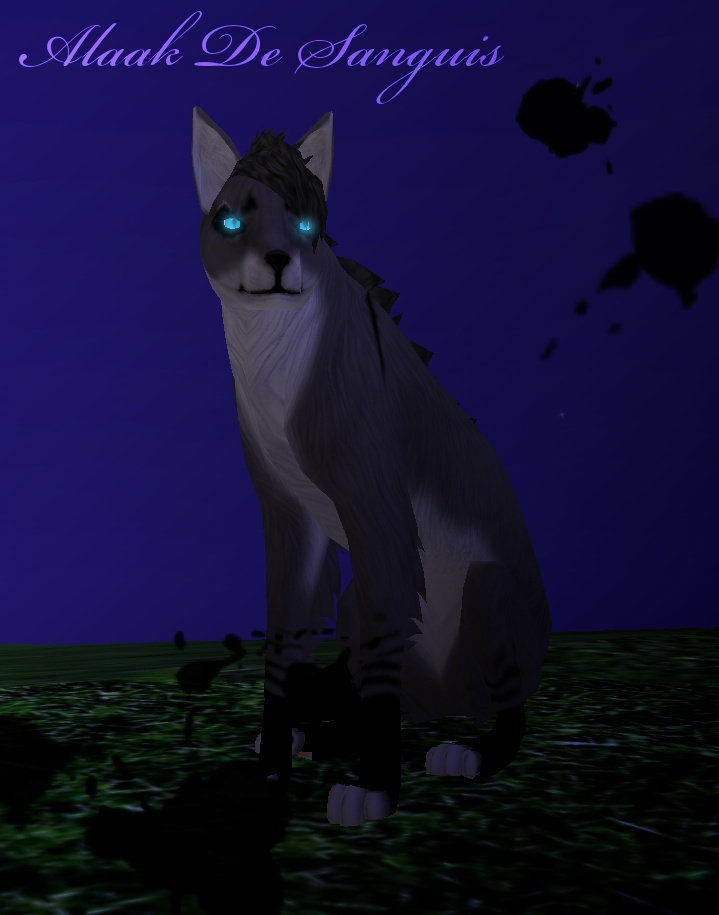 ||N A M E||
Alaak Demona De Sanguis
||A G E||
4 Years of Age
||R A N K||
Amans Medicus (Lead Medic)
-Aspiration;; Delta
|| A P P E A R A N C E ||
An ashen appearance but a shade lighter than her mothers. Alaak is born in likeness of her with a few minor differences. Iced cyan oculars glow in an array of lights and are burdened with a dark emerald splash which appears over time, only to disappear, thus the oddness of her Hecterochromia Iridum. Above her cold judging gaze are black spots which look almost like the start of eyebrows. To her bodice, one sees a stripe along her back, as well as three stripes and a large blotch which litters her side, while all four paws and appendages are decorated with socks. What Alaak lacks is the famous crimson which her De Sanguis family bares boldly. It makes her the odd one out with her lightened pelt in contrast to theirs.
||F A M I L I A||
Sire: Nosmirc De Sanguis
Dam: Kaala Sicarius Lupinent
Sibling/s: Enzi, Armouranth, Carter[d], Theodore[d], Skyla[d], Enitan[a/d], Raylyn[a/d], Hawk[a/d], Axel[d], Caspian[d], Lusa, Pyssla[d], Toddavius, Avash, Izen, Essej, Avalaria, Elijah[a/d], Hessa[a], Thistle[a], Cobra[a], Shava, Hades, Vaash, Adrian and Draken.
Niece to: Ashav [d], Passeh, Austere, Kaskara, Lithium, Rajah, Consia.
Cousin to: Caliae and Banzai
||P E R S O N A L I T Y||
This depends on her judgement of your character. However, Alaak possesses a very passive personality and will normally observe instead of become one of the crowd. She's quite dull, a silent partner who only really cares for small amounts of attention but will give attention to those she holds truly dear.
||I N J U R I E S/S C A R S||
No blemishes save for her brandings.

||H E A L I N G|AND|FIGHTING|L I F E||
At the age of 1, Alaak had left Ignitum to venture out on her own in search of her father. She found him, but in poor condition, tending to him when need be. Soon, she became a general healer to all who needed her, and became apprenticed to a lone male shaman who taught her the way of the herb. Since then, she has returned, taking her place as a medic and working her way to the top. Alaak chooses not to be distracted by males or children and only devotes herself to her practice.
Concerning battle, we can say that Alaak has probably only seen battle once, by herself where she was the one to shed blood. It was only then, even if she despised it, that she realized it was in her. It proves that if the situation was dire, she would be able to step in for the sake of her family.
||H E A L T H||
Mental Health: 99%
Physical Health: 100%
||C L O S E|T O||
Siblings and mother.
||N E U T R A L||
The rest of the pack.
||D I S L I K E||
~~~
||T H E M E||
Bright lights - 30 Seconds to Mars
The Children - Ramin Djawadi (GoT Soundtrack)
||S A Y I N G||
'An eye for an eye, a lie for a lie, in the darkness, your mind is blind.'
'You see, I'm not a monster. I'm just ahead of the curve.' -Joker.
||S M A L L|H I S T O R Y||
Born within the domain known as the Lake of Thorns, Alaak had a rather normal childhood. She was healthy and energetic as a pup should be but was known to cling to her mother whenever she had the chance. The disappearance of her father, not that he was ever a great one, led Alaak to believe it was her mother's fault because of the new brute who had found his way into her life. She left shortly after to find her father in poor health, and soon after giving up hope and tending to him, she left.
The female had begun to wonder aimlessly about the plains, healing those who needed it, and came across an elder shaman known as Hikar, who she apprenticed with. Alaak had grown fond of this apprentice, who had a fatherly outlook of life and yet, seemed to crawl into her heart in a number of ways. He died one night, out of the blue, which left Alaak feeling hopeless when it came to love and has since devoted herself to healing.
Her return to Ignitum Corda was no extravagant thing. She worked her behind off for where she has come now and longs to fulfill the duties of a Lead Medic in any ways possible.
||LOG OUT OF 5||
Intelligence: XXXXX
Speed:XXXXX
Agility: XXXXX
Charisma: XXXXX
Combat: XXXXX
||PRESET||
To be added.
//Rank: Amans Medicus//
/Spars won - 0. Spars lost - 0//
//Times helped - 0//
//Times healed - 12//
[Including those outside of IC]